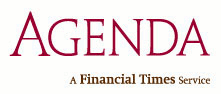 Article includes insights from DDN Members Jerry Sto. Tomas and Wayne Sadin.
CIOs Don't Get IT
By Amanda Gerut August 13, 2018
Chief information officers and other tech executives have bemoaned boards' lack of understanding about IT, cyber security and technology for years. But now a new website aims to bring some of those backroom concerns to boards' attention.
The Digital Directors Network, which launched this summer, is a new resource for board-level education on IT, technology and cyber security. In addition, the Digital Directors Network (DDN) will maintain a curated list of CIOsand chief information security officers (CISOs), chief technology officers, chief risk officers and other technology executives for boards interested in recruiting new directors with tech expertise. The DDN initiative has partnered with security and risk management company NTT Security and the Marshall School of Business at the University of Southern California and plans to roll out short informational videos and other educational resources for board members more fully in the fall.The DDN announced a new partnership with artificial-intelligence powered public filing analysis company MyLogIQ last week. MyLogIQ will provide the DDN with research on evolving digital governance practices.
We're not able to reproduce the entire piece due to FT Agenda copyright, however FT Agenda subscribers can access the full article, please go to: